Description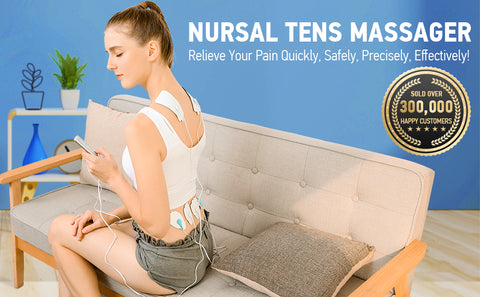 Electronic pulse massager for electrotherapy pain management and pain relief

TENS stands for "Transcutaneous Electrical Nerve Stimulation" – a safe, non-invasive, d rug-free method of pain relief used by physical therapists and prescribed by doctors for over 30 years.

Most users' feedback show that it is a really effective pain management tool. Chosen by sufferers of neck pain, back pain, shoulder tension, tennis elbow, carpal tunnel syndrome, arthritis, bursitis, tendonitis, plantar fasciitis, sciatica, fibromyalgia, shin splints, neuropathy and many more injuries and disabilities, who reap the benefits of a NURSAL TENS unit's relaxation and tension relieving properties.

Why Choose NURSAL Tens Unit Muscle Stimulator?
8 Stronger & Thicker Reusable Electrode Pads
Conveniently Pocket-sized & Free Dust-proof Pouch
Non-invasive and Non-medicinal Pain Relief
Built-in Powerful Rechargeable Lithium Battery



Pain Relief - Targets your pain precisely, effectively and safely

If you have chronic or acute pain just trying NURSAL TENS massager for relief. By placing the pads exactly at the site of the pain, you get fast relief from the electrotherapy device, without having to digest potentially harmful or addictive prescription medicine. This CE- and ROHS-certified TENS therapy device is considered free of side effects, and is safe to use whenever you need it!

Multi-preprogrammed EMS/TENS massage modes - designed for body relaxation


This TENS unit utilizes body simulation, bionic, bioelectricity and electromagnetic technology, as well as featuring an intelligent control system that simulates a variety of massage methods such as cupping, acupuncture and so on, providing relief for sufferers of back pain, arthritic or inflamed discs/joints, shoulder tension and muscle pain. You can choose from one of several massage modes to fit your needs, for total body relaxation.

20 levels of adjustable strength - penetrates muscle groups deeper than human hands can

The sensation you'll get when using this device is very real. You'll wonder who is administering your massage - but it's just the TENS unit! It penetrates muscle groups deeper than a human hand massage can. When you place the electrode pads on the pain points, you will feel instant relaxation and pain relief. 20 strength levels can be steadily increased or decreased by using the "+" and "-" buttons from level 1 through to 20.

Notice:

1. Please turn off the device before you touch the pads.

2. Not suitable for pregnant women, or heart disease and hypertension patients.

3. Not safe for people with pacemakers.
Payment & Security
Payment methods
Your payment information is processed securely. We do not store credit card details nor have access to your credit card information.
---
Security